Tanaz Bhathena Wins Inaugural
Bapsi Sidhwa Literary Prize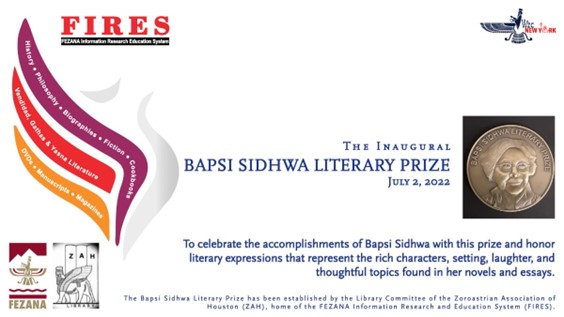 The Inaugural Bapsi Sidhwa Literary Prize was announced at a glittering Award Ceremony at the 12th World Zoroastrian Congress 2022 in New York on Saturday July 2, 2022. The genesis for the Bapsi Sidhwa Literary Prize is under the sponsorship of the Zoroastrian Association of Houston and FEZANA Information Research Education System.
This award is the first of its kind to be awarded once every two years to a Zoroastrian fiction writer.
Named after Bapsi Sidhwa, who lives in Houston, TX, the first recognized Zoroastrian writer with an international reputation, a precursor to representing Parsi literature.
We received entries from India, United Kingdom, Canada and the US and were judged by an independent panel of three recognized judges.
In the years to come we hope to widen the scope and recognize Zoroastrian authors in other fields of literature.
The winner of this award will receive a beautiful medal and a 2000 USD cash prize.
The winner of the Award is Tanaz Bhathena and the title of the book is 'Hunted by the Sky'
Congratulations to Tanaz. Unfortunately she could not be present in person.
Her acceptance speech and the entire Award presentation can be viewed in the video below.
Tanaz Bhathena is an award-winning author of young adult fiction. Her books include Of Light and Shadow (forthcoming in 2023), Hunted by the Sky, which won the White Pine Award and the Bapsi Sidhwa Literary Prize, and The Beauty of the Moment, which won the Nautilus Gold Award for Young Adult Fiction. Her acclaimed debut, A Girl Like That, was named a Best Book of the Year by numerous outlets including The Globe and Mail, Seventeen, and The Times of India. Her short stories have appeared in various publications including The Hindu, Blackbird, Witness, and Room. Born in India and raised in Saudi Arabia and Canada, Tanaz lives in Mississauga, Ontario, with her family. Continue reading on https://tanazbhathena.com/