Niloufer Mavalvala
This article is far more important than getting my name on the BBC or promoting one cookbook. It is a win for the Parsi cuisine, which now stands tall among the rest of the cuisines in the world. Let us continue to support each other because everything is possible as a group. Niloufer's Kitchen: #revivinganancientcuisine one recipe at a time.  
A visually striking special occasion recipe, with ruby berries studding a bed of glossy, saffron-tinged rice that cradles juicy cuts of chicken.
Cookbook author Niloufer Mavalvala is on a mission: to revive her ancient cuisine one recipe at a time.
"Our cuisine doesn't have a flag, an anthem or a country," said the 2020 Gourmand International Best in the World winner. She was referring to India's Parsi community, part of the Zoroastrians, who left ancient Persia (now Iran) for the subcontinent between the 8th and 10th Centuries.
"When partition took place, the Parsis were also divided by history," she added. "Our tiny little community spread its wings and migrated to every corner of the world [but had limited] access to authentic recipes or the joint family system that generally passes down the skills. They were at a loss."
Traditionally, Parsi cuisine would often feature complicated recipes with elaborate prep work, such as finely chopping herbs, grinding pastes by hand, and making many sauces, chutneys and preserves to accompany meals – something that is particularly difficult for members of the diaspora who are either short on time or can't find all the ingredients where they are living.
Through her blog Niloufer's Kitchenand cookbooks like The World of Parsi Cooking: Food Across Borders, Mavalvala aims to simplify recipes without sacrificing flavour or authenticity, suggesting alternative ingredients while illustrating how the dishes were customarily served. She also cuts down on extensive steps – and tedious clean-up.
One of her most visually striking special-occasion recipes is shirini zereshk palau (sweet barberry pilaf), where ruby berries stud a bed of glossy, saffron-tinged rice that cradles juicy cuts of chicken. Zereshk is the Persian name for the widely cultivated oblong-shaped berry found particularly in South Khorasan, Iran; and palau (pulao or pilaf) simply refers to seasoned rice cooked in stock. But the word shirini in Mavalvala's signature recipe serves three purposes.
First, it means "sweets" in Persian, which is fitting, as Mavalvala soaks the tart berries in orange and lemon syrup to plump them up and infuse them with an ambrosial taste. It was also the name of Mavalvala's mother, with whom she concocted the recipe. And third, it fits with the theme of Haftseen, a table set up during Navroz (also spelled Nowruz), or Persian New Year, with seven symbolic items beginning with the letter "s" to pay tribute to the seven creations of the universe: fire, water, air, earth, metal, and the plant and animal kingdoms, she explained. (The holiday falls between 19 March and 22 March, during Spring Equinox in the northern hemisphere. This year will be 1402 in the Persian calendar.)
Mavalvala frequently serves the show-stopping rice dish, piling it regally on a massive silver tray, for Navroz, as well as other family gatherings and special occasions. She associates it with the sort of mindful and gracious hospitality she saw her parents extending towards their sprawling social circle during her childhood in Karachi, Pakistan, before she moved to Canada.
"In the eastern world, people tend to put many things on the [dining] table – it's never just one – but they have to complement each other," she said. "When I'm organising a buffet, I imagine the guest's plate. You want to make sure it doesn't all meld into one. The gravies need to be thicker [so they don't run into each other]. Colour should be there.". Of her aromatic zereshk palau, she said, "If you cooked it, it would definitely be the star."
Despite now being a dwindling community, Parsis have left indelible imprints on South Asia, from being famed for shaping India's taste for soft drinks to establishing the institution-like Irani cafes that once dominated the subcontinent. At the same time, the cuisine reflects a coalescence of Indian and Iranian influences.
The now iconic Mumbai-style zereshk palau is believed to have originated at Mumbai-based Irani cafe Brittania & Company in August 1982. Legend has it that Bachan, the wife of owner Rashid Kohinoor, integrated leftover mutton and Indian pantry staples such as garam masala into Irani berry pollo (a variation of the spelling), essentially marrying a uniquely Persian dish with Indian flavours.
"[The Brittania & Co story] makes perfect sense because it speaks to our no-waste philosophy," Mavalvala said, positing that Bachan may have simply been utilising leftover meat from another Parsi favourite prepared at the famed restaurant called salli boti (meat curry with potato sticks).
Many Parsi recipes follow a zero-waste mindset out of deep reverence for the land and sea, such as steaming an entire fish in banana leaves, pickling whole lemons or using bottle gourd peels for preserves, explained Mavalvala. "Parsis are brought up like that," she said matter-of-factly. [It's] not a question of whether you can afford it or not. It's just how your kitchen works."
The use of unexpected ingredients in conventional dishes also attests to a collective make-do spirit. "People had very large families to feed, and when you have 20-30 people aged one to 95 living [together], you have to improvise," Mavalvala said.
Mavalvala's zereshk palau is milder than Mumbai-style zereshk palau, leaving out ingredients like garam masala and allowing the saffron and barberry notes to sing. She also cooks the rice fully in chicken stock, forgoing the parboiling step in water that some recipes call for, to allow the long, fluffy grains to fully absorb the delicate flavours.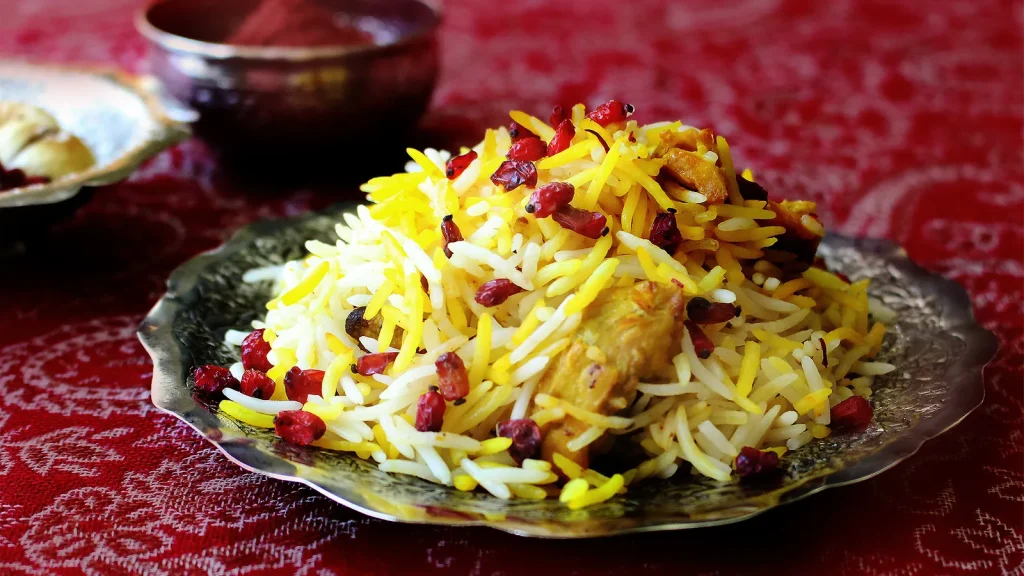 Shirini zereshk palau recipe
By Niloufer Mavalvala
(serves 6)
INGREDIENTS
2 tbsp neutral oil
2 medium onions
2 tbsp tomato paste
1 tsp salt
1 tsp peppercorns
1 cinnamon stick
8 whole green cardamom pods, bruised
1kg (2.2lb) chicken, cut in 8 pieces
½ cup sugar
4 tbsp zereshk (barberries), or substitute goji berries, dry tart cherries or cranberries
2 tbsp orange peel, thinly julienned
juice of 1 lemon
1 tsp saffron, crushed
2 cups rice
Method
Step 1
In a large pot, heat the oil over medium to low heat and cook the onions until soft and translucent, about 7 minutes, stirring occasionally. Add in the tomato paste, salt, peppercorns, cinnamon stick, cardamom pods and 4 cups water. Once it comes to a boil, reduce heat to a simmer and add the chicken pieces to poach for 20 minutes. Drain the poaching liquid and set aside to use as stock. Remove the chicken and keep separately.
Note: If using chicken breasts (opposed to just brown meat pieces like the thighs), remove them from the poaching liquid halfway through cooking so that they don't dry out.
Step 2
In a small pan, make a simple syrup with the sugar and 1 cup of water, allowing it to boil only after all the sugar is melted on low heat. Once it is sticky to the spoon or the touch, add the barberries, orange peel, lemon juice and saffron. Simmer together for a minute to infuse. Set aside.
Step 3
In a large skillet or pot with snug-fitting lid, cook the rice in the chicken stock on medium heat. When the liquid comes to a boil and you can see the top of the rice, place the poached chicken all over, pressing it down gently with the back of a spoon. Then pour the prepared syrup all over it. Cover, ensuring it is airtight, and allow it to cook on very low heat for 30 to 40 minutes until the rice is completely cooked.
Step 4
Allow it to rest for 10 minutes. Then, serve immediately on a platter.
Tips and tricks
The Persian version (Irani Berry Pollo) is traditionally made as a rice cake, which is overturned on to a plate. It's prepared by allowing the rice at the bottom of a buttered pot to caramelise and become crisp.
When the pot is flipped over, the tahdig (Persian for "bottom of the pot", referring to the crispy layer of rice) is then shared by the elders who offer it to the youngest at the family table.
Additionally, almonds, pistachios and sultanas can be scattered over the cooked palau before serving.