Memories, Stories and Portraits
Katayun Kapadia featured in Local Voices:
Our dearest friend, mentor and past FEZANA President Katayun Kapadia is featured in"Local Voices:
Memories, Stories, and Portraits,"one of two new exhibitions on view at Grounds For Sculpture in Hamilton, New Jersey through January 7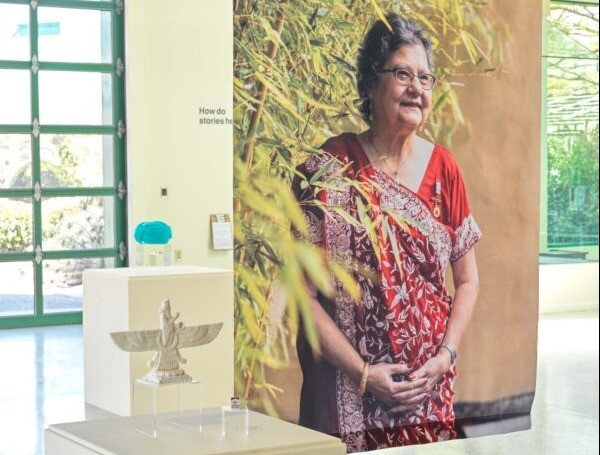 "KATAYUN K. KAPADIA": This photo on fabric banner by Erica Lee is featured in"Local Voices: Memories, Stories, and Portraits,"one of two new exhibitions on view at Grounds For Sculpture in Hamilton through January 7. (Photo by Bruce M. White)
Watch Katayun tell her story to Madhusmita Bora, filmed by Danese Kenon.
About the Fravahar
Each storyteller has loaned an object to the exhibition which holds personal meaning.  These objects are symbols of the "Faravahar" from the Zoroastrian religion. Katayun shares some information about this symbol below:
"The Faravahar, or Farohar, is to remind one of the purpose of life on this earth, which is to live in such a way that the soul progresses spiritually and attains union with Ahura-Mazda (the Wise Lord); this state is called Frasho-kereti in Avesta. The word "faravahar" actually is Pahlavi, or Middle Persian. It derives from ancient Iranian (Avestan) word fravarane which means "I choose." The choice is that of the Good, or the Good Religion of Zarathushtra."
Explanation of the Faravahar Symbol
The Faravahar's face resembles the face of a human being and therefore indicates its connection to mankind.
There are two wings in two sides of the picture, which have three main feathers. These main feathers indicate three symbols of good thoughts, good words, and good deeds..
The lower part of the Faravahar consists of three parts, representing bad thoughts, bad words, and bad deeds which causes misery and misfortune for human beings.
There are two loops at the two sides of the Faravahar, which represent Sepanta Minu, and Ankareh Minu. The former is directed toward the face and the latter is located at the back. This also indicates that we have to proceed toward the good and turn away from the bad.
There is a circle in the middle of the Faravahar's trunk. This symbol indicates that our spirit is immortal, having neither a beginning, nor an end.
One hand of the Faravahar points upwards, showing that we have to struggle to thrive.
The other hand holds a ring. Some interpreters consider that as the ring of covenant, representing loyalty and faithfulness which is the basis of Zarathustra's philosophy.
This spring, a Grounds For Sculpture (GFS) exhibition presents a multi-faceted portrait of the Indian diasporic community in New Jersey, through first-person narratives, images, and objects. "Local Voices: Memories, Stories, and Portraits"is created in partnership with 15 community members and led by artist, teacher, and journalist Madhusmita "Madhu" Bora. It is one of two concurrent exhibitions that inaugurate the new Perspectivesseries at GFS and explore the role of creating person-centered exhibitions, ensuring individual and communal agency in the art of storytelling.
Both "Local Voices"and the second exhibition, "Spiral Q: The Parade," are on view through January 7 in Grounds For Sculpture's Domestic Arts Building. "Spiral Q's" focus is on the locally and nationally recognized puppet-making organization Spiral Q, with its rich history of take-to-the-street advocacy processions for social and political change.
"With the launch of the Perspectivesseries, Grounds For Sculpture is taking on new levels of engagement with our audiences as we organize artist-led, community-driven exhibitions to deepen our understanding of how we — as artists, individuals, and communities — are reflecting on our world and responding to subjects and issues of today," said Gary Garrido Schneider, executive directorof Grounds For Sculpture. "We remain committed to engaging and challenging visitors of all ages and backgrounds with exhibitions and collections that present the work of contemporary artists through sculpture, while developing greater understanding of our audiences through storytelling and listening to the voices of the communities around us."
Kathleen Ogilvie Greene, chief audience officerat Grounds For Sculpture and lead curator of both exhibitions, added, "Regardless of our race, ethnicity, language, or age, most of us carry stories that offer themes of love, loss, and resilience. This connectivity is the impetus for 'Local Voices: Memories, Stories, and Portraits.' We stayed hyperlocal — both with the selected community and with storytelling sharing from a lived experience — to focus on the stories that connect us as human beings.
"Both Madhu Bora and Spiral Q have been amazing partners, and we are excited to present two distinct, yet connected, paths to storytelling: the individual narratives within one exhibition and the collective voice of a community in the other. I'm particularly delighted to be working on both shows with co-curator Quentin Williams, who brings his expertise as a curator, activist, and poet to the team."
Grounds For Sculpture invited Bora — a folk and traditional artist, teacher, writer, and journalist, as well as an Assamese American dancer and founder of Sattriya Dance Company — to gather oral histories that would present a range of uniquely personal stories from New Jersey's Indian diasporic community. The images, objects, and stories within the "Local Voices"exhibition are the result of her building relationships with individuals, the "storytellers," over the course of 10 months. The selected 15 individuals were then invited to share their stories, select an object of meaning, and craft their image with full autonomy, to create a powerful exhibition.
The "Local Voices"exhibition showcases portraits, hanging banners, personal objects of meaning, and video and audio clips of personal stories. Participants in this project reflect a broad scope of this community through the lenses of language, religion, ability, region of origin, caste, education, immigration, and sexual orientation.
Grounds For Sculpture is located at 80 Sculptor Way in Hamilton. It is open Wednesday through Monday, 10 a.m. to 5 p.m. (closed Tuesday). For more information and extended hours in May through September, visit groundsforsculpture.org.
About Local Voices: Memories, Stories, and Portraits
Local Voices: Memories, Stories, and Portraits is an exhibition centered on the importance, and impact, of sharing an authentic personal story. It is a person-centered exhibition giving full agency to everyone involved. It was also created in response to Grounds For Sculpture's 2021 audience demographic survey. We wanted to better understand our current visitors and dove into this project to engage with New Jersey's vibrant Indian community. Grounds for Sculpture (GFS) is honored to partner with Madhusmita Bora, a folk and traditional artist, teacher, and trained journalist as she gathered oral histories to present a range of diverse and uniquely personal stories from fifteen individuals whom we refer to as storytellers. This process included the creation of our own list of demographic "boxes" for potential attendees to check, including language, religion, ability, region of origin, caste, education, immigration, and sexual orientation. This was done to ensure a broad range of lived experiences, perspective and thought. These storytellers were then freed of all boxes, or labels, and asked to share a story which impacted their life. As with many great books, or heartfelt songs, the more personal the narrative the more universal are the themes of love, loss, and resilience. It's this core of connectivity that we are seeking. This core is embedded with personal agency: Who gets to tell our stories? Who gets to define us?
Within the scope of Local Voices every storyteller was encouraged to share their truth and as a result our process and path to the creation of this exhibition shifted many times. Each shift had a ripple effect of building trust, growing possibilities, and creating community. When it came time for the Local Voices Retreat – an all-day workshop with storytelling training and a photography session – storytellers were asked to arrive in clothing which made them feel powerful and celebrated. They were also encouraged to work in partnership with their photographer to create images which spoke to who the storyteller is… sharing as much or as little as they were comfortable. They were then asked to select the final image, which are a wide range of vibrant, joy filled and powerful portraits. As everyone departed from the retreat storytellers signed up for their video session – where they share a 3–5-minute story – and left objects – items which tell another part of their story.
GFS will offer opportunities to learn more about the interview and selection process, and storytellers, with programs shared on our calendar. GFS is thrilled to work with The South Asian American Digital Archive (SAADA) as a preservation partner, ensuring the stories shared for this exhibition will be permanently saved for future generations.
Some of the words and terms used within this exhibition may be new to you. We invite you to research those terms, which are not familiar, so you can better understand the cultural context. We don't want to assume who holds which norms, and all of us have space to learn. All of us also have stories. Which stories speak to you?
Co-Curated by Kathleen Ogilvie Greene, Chief Audience Officer at Grounds For Sculpture, and Quentin Williams, Founder and CEO of Dragon Tree Media Group.